Vocabulary – School Supplies in Portuguese | Lesson 6
Thursday July 19th, 2018

Posted by:

Guest Author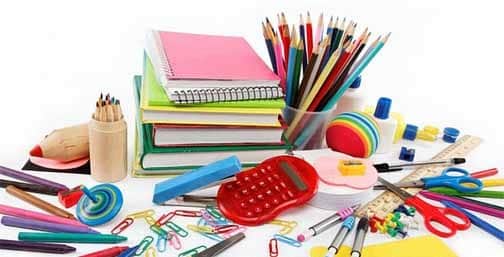 Today we are going to learn the name of the school supplies we use in the classroom to increase your vocabulary in Portuguese!
Livro (book)
Caderno (notebook)
Caneta (pen)
Lápis (pencil)
Lapiseira (mechanical pencil)
Borracha (eraser)
Estojo (pencil case)
Régua (ruler)
Tesoura (scissors)
Agenda ou bloco de anotações (appointment book or notepad)
Corretivo (liquid paper)
Lápis de cor (colored pencil)
Canetinha ou hidrocor (marker pen)
Papel (paper)
Folha (sheet of paper)
Marcador de texto ou marca texto (marker)
Marcador para quadro branco (whiteboard marker)
Apagador (whiteboard eraser)
Quadro (whiteboard)
Mochila (backpack)
Computador (computer)
Teclado (keyboard)
Mouse (mouse)
Mesa (table)
Cadeira (chair)
Carteira (desk)
Masculine words:
livro (book), caderno (notebook), lápis (pencil), estojo (pencil case), bloco de anotações (notepad), corretivo (liquid paper), lápis de cor (colored pencil), papel (paper), marcador (marker), apagador (whiteboard eraser), quadro (whiteboard), computador (computer), teclado (keyboard) and mouse (mouse).
Feminine words:
caneta (pen), lapiseira (mechanical pencil), borracha (eraser), régua (ruler), tesoura (scissors), agenda (appointment book), canetinha (marker pen), folha (sheet of paper), mochila (backpack), mesa (table), cadeira (chair) and cartira (desk).
Now you can practice!!
Homework: 
1- Complete the following texts with the name of the school supplies we learned:
a) Todos os dias, Rafa arruma sua ______________ para ir pra escola.
Ele pega a sua ______________ para escrever tudo o que o professor fala.
Dentro de seu ____________, ele também coloca uma ______________ caso precise apagar seus erros.
b) Beatrice é uma aluna muito dedicada. Ela sempre organiza muito bem seu material para ir à escola.
Ela gosta de levar seu ________________ para marcar tudo de importante que tem no ______________.
Ela não gosta de usar _________________, porque precisa de borracha para apagar. Ela prefere usar _____________ para escrever.
c) Na sala de aula da Raquel tem uma ____________, um ____________, 8 _____________, um ________________ grande com um teclado e um mouse.
Rachel tem muitas _____________ e uma ________________ de 30 cm.
Ela escreve no ___________________ com um _____________ azul.
É sua cor favorita.
2- Diga o que você leva para a sala de aula.
3- Como é sua sala de aula? Quantos alunos tem?
4- Você prefere lápis ou caneta? Justifique.
See you next time! Don't forget to practice!
Answers:
1) a) mochila – caneta – estojo – borracha
b) marca texto/marcador de texto – livro – lápis/lapiseira – caneta
c) mesa – quadro – cadeiras – computador – canetas – régua – quadro – marcador
2) Personal answers
3) Personal answers
4) Personal answers
If you're interested in more Portuguese grammar tips, access Caminhos Language Centre's grammar page here. Study Portuguese in Brazil and have fun with our free activities in Rio de Janeiro. Caminhos have different Brazilian Portuguese courses in 9 levels (beginner to advanced).