10 Reasons Why You Should Learn Portuguese in Brazil
Thursday September 9th, 2021

Posted by:

Amanda Ennes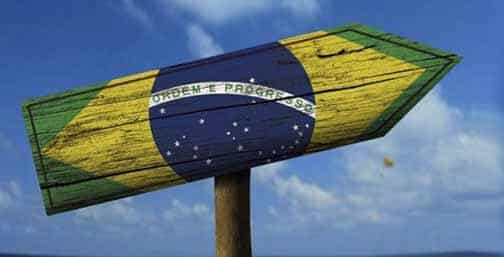 While we already covered the topics of why learn Brazilian Portuguese and the benefits of learning a second language, let's now talk about the 10 reasons why you should learn Portuguese in Brazil.
We already know Portuguese is the sixth most spoken language in the world, making it a great asset in life, either for business or fun. Speaking Portuguese is also essential to travel around Brazil, since most Brazilians do not speak another language.
Ok, but you can learn Portuguese online from home, right? You can also go to a Portuguese school in Portugal and learn European Portuguese. You may even search for a Portuguese teacher in your home country. The true question is: why traveling to learn Portuguese in Brazil?
Well, we have amazing reasons to convince you to do so.
1. Travel Around the Country
Once in Brazil, you can take time to travel around and visit different places and cultures within the same country. Brazil is huge and diverse and every state has its own cuisine, dialect, traditions, and accents. Exploring the country is not only a great way to visit new places and have fun, but also learn the language and its specificities along the way.
You will love to check the way people from the South care about their barbecue and the lively upbeat vibe of the Southeast. You will be able to see with your own eyes the natural beauty of the wetlands of the Center-West and the Rainforest in the North. Not to mention the delicious food and the memorable accents of the Northeast.
You should definitely come to Brazil to visit the country and learn Portuguese along the way.
2. Live the Culture
We live in a globalized modern world where we can learn basically everything from home thanks to technology. However, being able to check videos and pictures from the internet is definitely not the same thing as experiencing it with all of your senses.

You need to be here to understand what it means to be Brazilian. You need to be part of a Carnival parade to understand the feeling and excitement and the greatness of the event. Moreover, you need to eat a true feijoada made of local ingredients to really taste the flavors. You need to join a 'roda de samba' to hear all the instruments and get caught up in the dance.
It is important to take your time and live the culture because this will definitely help you master the language.
3. Learn Informal Vocabulary
One of the things you will definitely pick up when you travel to learn Portuguese in Brazil is slang. Informal words and expressions are part of the daily life of every Brazilian. And even though you can check textbooks for the meaning behind them, only talking to Brazilians often will make you include them in your daily vocabulary.
Check The ultimate list of carioca SLANG! on our blog.
4. Get Used to the Speech Pace
Brazilians tend to speak in a fast-paced manner in general. But some people from specific parts of Brazil tend to speak even faster.
Cariocas, for once, speak Portuguese fast using lots of slang. People from Minas Gerais tend to omit parts of words and combine two or more words to make a new one. Nordestinos, as people from the Northeast are called, have a strong accent and also speak relatively fast.
You need to visit new places and talk to different people to get used to it if you want to become fluent in Portuguese.
5. Have Fun
Let's be honest: we all know Brazil is one of the best places in the world when it comes to having fun. From Carnaval to 'Festa Junina', from nightclubs and street parties to a day at Ipanema Beach… You can have fun everywhere! Brazilians always find a reason to party, gather friends, and celebrate.
6. Meet Brazilians
You will never master Portuguese if do not practice with natives. So, buy a plane ticket, plan your trip, and just do it!
7. The Food!

Brazilian food is really delicious and you need to taste the local ingredients to really experience it. Yes, you can find Brazilian restaurants in other countries, but it is not the same thing. You need Calabresa sausage to make a great traditional feijoada, Minas Cheese for a true Pão de Queijo, and Dendê oil for a delicious Acarajé.
That being said, you MUST be in Brazil to taste it all.
If you are planning your trip to Brazil, check this list of Brazilian food you must try while in Brazil and do not miss any of them!
8. Beautiful Beaches
Planing a trip in order to learn Portuguese in Brazil is a great excuse to visit some of the most beautiful beaches on the planet. From Baía do Sancho in Fernando de Noronha to Lopes Mendes in Ilha Grande, Brazil has astonishing beaches that often feature in lists of best beaches in the world. You should check them out!
9. Music
Brazil is the birthplace of music genres such as Samba, Forró, Choro, and Bossa Nova. And knowing that learning Portuguese through music is an amazing way to learn the language, you should come here to see it up close.  After all, it would be awesome if you could appreciate good Brazilian music beyond the world-famous "The Girl from Ipanema".
You will find different and exciting rhythms, cheerful and noisy songs in every corner of the country. There is always something great to listen to. From fun dance music to calmer songs to listen to while witnessing a beautiful sunset on the beach.
And how about taking some dance classes along the way? Caminhos Language Centre offers free weekly samba classes for all students. Teacher Bruno also teaches different types of Brazilian dance, such as Forró and Zouk. You can visit Brazil and become a dance pro while studying Portuguese in Rio de Janeiro.
10. Immerse Yourself
All of the reasons why you should learn Portuguese in Brazil mentioned above come to the same conclusion: if you really want to learn Brazilian Portuguese and become fluent, you need to immerse yourself in the language. The only way to do so is by spending time in Brazil.
That means go grocery shopping, pay bills in Portuguese, order food in a restaurant, make Brazilian friends, and have to deal with everyday situations in Portuguese. In order to become fluent, you need not to speak your own language for a while and force yourself to speak the language you are learning as much as possible.
And that is not that hard. Once you learn the basic core of Portuguese, fluency will come naturally as times go by. Just keep studying, keep practicing, and start to see yourself as a true Brazilian.
But do not forget: have fun while doing so!
Learn Portuguese in Rio de Janeiro, Brazil with Caminhos Language Centre

If you want to immerse yourself in Brazilian Portuguese, Caminhos is here to support you from day one. At Caminhos, we offer a diverse and enriching learning curriculum using the communicative approach. This communicative language teaching method places emphasis on interaction. Teachers will speak the Portuguese language as much as possible during the entire course, maximizing students' potential. They will also use experiences of daily life to teach Portuguese lessons, helping students grasp the Brazilian street talk, important when learning to navigate the streets of Rio.
At Caminhos Language Centre we understand that effective Portuguese language learning does not only happen in a traditional classroom-based environment. Therefore, our teachers incorporate a number of cultural and social activities into their lessons, such as recipes, roleplaying, movies, and music activities.
We also offer a Rio Immersion course, perfect for those wanting to learn Portuguese fast outside of a traditional classroom. The teacher will ensure you are fully immersed in the Brazilian language, conversation, and culture. You will engage with locals and learn how to manage everyday situations, while checking some of Rio de Janeiro's most famous tourist sites, like Christ The Redeemer statue, the Sugarloaf mountain, the Tijuca National Rainforest, and the Copacabana Palace hotel.
Book your classes with Caminhos and join the family.