Beach volleyball and Footvolley in Brazil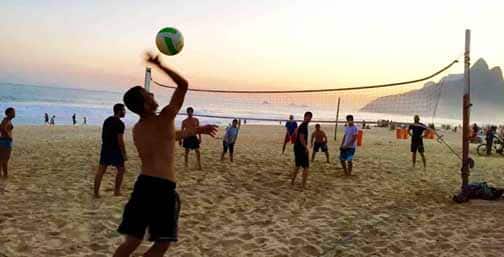 If you walk down the sidewalks of Copacabana and Ipanema – or any other beach in Rio de Janeiro, actually – you will see that almost every sand court is occupied by avid players. Beach Volleyball and Footvolley are extremely popular in Brazil, but especially in the Marvelous City.
Cariocas use these sand courts to play either beach volleyball or footvolley, a sport invented in Rio de Janeiro that combines aspects of volleyball and football.
If you have a net and a ball of your own, do not hesitate. Just look for an empty court, call your friends, and play your favorite sport for free at any beach. And during the break, you can also enjoy your day drinking some coconut water and refreshing yourself in the cold waters of the ocean.
Cariocas love to exercise

People in Rio de Janeiro are very active and fit – you can see lots of people exercising at the beach early in the morning or late in the afternoon (before and after work hours). With such beautiful beaches so close to home, it is no surprise beach volleyball and footvolley are so popular in Brazil, especially in Rio.
Everyone here seems to love playing sports at the beach – beach paddleball, beach volleyball, and footvolley are definitely among the most popular sports in Brazil.
So, what is footvolley?

Footvolley is a mix of beach volleyball and football. Octavio de Moraes invented this sport back in the '60s, in Copacabana Beach. The game is played with two players on each side of the court. They essentially follow the rules of beach volleyball, but players cannot use their hands. You should only touch the ball with your feet, chest, and head.
Many former football players are now devoted footvolley players, including Romário, Edmundo, and Júnior.
After gaining so much popularity in Brazil, footvolley is now a popular sport around the world, having its own world championship and other major events.
Beach Volleyball in Ipanema

At Caminhos Language Centre, we take our students and friends to play beach volleyball every Monday at Ipanema Beach. We meet at the school at 4:30 pm and go together. We have our own net and ball and everyone is welcome to join our game. Lots of Brazilian friends come to play with us and you can practice your Portuguese while having fun. 
Study Portuguese in Brazil with Caminhos Language Centre and experience the best Rio de Janeiro has to offer. Caminhos offers daily free and fun activities for you to socialize and learn Brazilian Portuguese. Caminhos Language Centre is the number one Portuguese School in Rio de Janeiro according to TripAdvisor.