Rio de Janeiro Beaches: Discover the Best Beach for You
Thursday January 9th, 2020

Posted by:

Amanda Ennes

Category:

Rio de Janeiro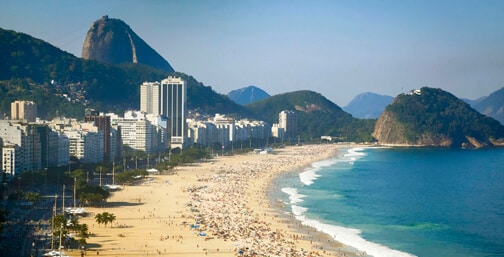 One of the greatest things about Rio de Janeiro is you can enjoy paradisiac beaches without leaving the big city. The beautiful beaches are everywhere in Rio de Janeiro, with easy access, public transportation nearby, and close to restaurants and bars.
You should definitely go see as many Rio de Janeiro beaches as you can while in the Marvelous City, but if you do not have time to visit them all, discover which one is the ideal beach for you.
1. Copacabana —  The most famous of all Rio de Janeiro beaches

Copacabana is known worldwide, with its promenade being a very famous landmark. This Rio de Janeiro beach is packed with tourists, locals, and beach vendors. You do not need to bring anything to Copacabana beach, as you can find everything there — it is possible to rent beach umbrellas, buy caipirinhas, snacks, sunglasses, beach towels, and everything you can think of.
Copacabana is also great for kids, as the waves are not big and everyone can enjoy the cold blue water of the Atlantic Ocean.
Being the most famous Rio de Janeiro beach, Copacabana is also the most crowded. Be aware of that during the summer season and hot days. There are bus stations by the beach and subway stations nearby as well. 
2. Ipanema — Where young people meet
Ipanema beach is very close to Copacabana. It is also crowded, but the beach itself is cleaner and the waves are bigger. During the winter, the surf can reach nine feet, so be aware of that.
The water in Ipanema is usually clear light-blue — it does not look like you are in the middle of such a big city like Rio de Janeiro. Young people usually get together at Ipanema beach, as it is a meeting point for them. Posto 9 is the most famous part of the beach and the spot near Farme de Amoedo Street is a well-known LGBT hangout area, a very gay-friendly spot at the beach. 
There are also many sand courts around this beach, and you can play a few matches of beach volleyball or footvolley with the locals.
You can easily reach Ipanema beach by public transportation.
3. Joatinga — Hidden gem between mountains

Joatinga beach is situated in Joá, an upscale neighborhood of the upper class in Rio. It is one of the most beautiful beaches in the city, though not known by many tourists. Make sure you visit Joatinga in the mornings because there are a few mountains around, which makes the beach stays in the shadows much earlier.
This Rio de Janeiro beach is more for the adventure people, as you need to walk down some rocks to get there. But it's definitely worth trying if you rather visit quieter beaches. There are no beach vendors there, so make sure you bring everything you may need, including food, water, a beach chair, or a towel.
You can go there by bus, but you will need to walk around 400 meters from the bus station until you reach the beach area. Therefore, it is best to take an Uber. Just make sure you have good internet coverage so you can ask for a ride back.  
4. Reserva — It can not get any quieter
An awesome place to enjoy the solitude! Reserva is probably the emptiest of the Rio de Janeiro beaches. There are few beach kiosks, no beach vendors, and it is super easy to have a spot all for yourself at the sand. 
Reserva is a great beach for surfing and fishing. There are lots of coastal vegetation around the beach, and the water is very clean and clear.
There is no way to get there by public transportation. Make sure you have a car to get you there. 
5. Praia da Barra — All kinds of water sports 

Praia da Barra is 15km long, but only 6km is urbanized. It gets more crowded near famous spots, such as Praia do Pepê, Posto 4, 5, and 6. It is not as easy to find beach vendors in Praia da Barra as it is in Copacabana or Ipanema. However, they appear occasionally and you can buy something to eat or drink.
Praia da Barra is also famous for water sports, such as kitesurfing, windsurfing, standup paddle boarding, and bodyboarding. There is a bicycle path along the coast perfect for a nice bike ride in Rio de Janeiro.
Right behind Praia da Barra, there are huge gated communities, hotels, and restaurants. If you want to go there by public transportation, go to Jardim Oceânico subway station, get out at Saída Mar exit, and take the bus to the beach.
6. Prainha — Environmental protection area
There is no public transportation reaching Prainha, so you must go there by car. If you get an Uber, be aware that internet coverage may be poor in the area. Moreover, if you decide to drive there, make sure you go very early in the morning because there is not a lot of parking spots available.
Prainha is the right spot for surfers as the waves are big. You can also visit some great rustic bars nearby while enjoying one of the best landscape views in Rio. There are lots of vegetation around Prainha and not a single house, which makes it a paradisiac beach. 
Prainha is an environmental protection area, which in Brazil means the primary intent of said place is environmental protection itself, even if there are a few constructions nearby.
7. Praia do Secreto — The secret spot in Rio de Janeiro

Praia do Secreto, as the name suggests, is a hidden beach in Rio de Janeiro, as 'Secreto' means 'secret' in Portuguese. When the tide is low, a natural pool is formed between the rocky area. It is a bit dangerous to get there, as you need to climb the rocks to reach the water and also to go back. Nevertheless, it is worth it if you are feeling adventurous.
This beach is not at all famous among tourists. Not even many locals know about it, so you could be one of the few people to ever go there.
You cannot see the beach from the road, so when going there, pay attention to the pathways leading to it. You need to go to Praia da Macumba and walk until you reach Praia do Secreto. 
Be aware! If the tide is high and the waves are big, do not attempt to go down to this beach. It is very dangerous to be there in these conditions.
8. Praia do Abricó — Yes, Rio also has a nude beach
Just beside Prainha is Grumari beach. It is a nice family beach, calm, and clear. On the left side of Grumari beach, behind the big rocks, there is a small beach area called Abricó. Abricó is the only nude beach in the city of Rio de Janeiro. Visitors can enjoy a view with great scenery and real privacy. You cannot see this part of the beach from the road, as there are lots of rocks and trees in front of it. 
You cannot reach it by public transportation. Furthermore, a car ride from Zona Sul to Grumari might take over an hour. Still worth the visit if you are a naturalist as this beach is indeed a very beautiful place.
Discover the Best Beach for You
Now that you know a little bit about some of the greatest beaches in Rio, you can choose the one that better fits your personality, lifestyle, or mood. There are also many other great beaches in Rio de Janeiro. You can Google it and ask around about them. Discover the best Rio de Janeiro beaches during your visit and have fun!
Study Portuguese in Rio de Janeiro, Brazil with Caminhos Language Centre. You can choose between group and private classes and also combine your Portuguese classes with surf, capoeira and samba lessons. Free activities every day promote your conversation skills and help you make new friends. Book now!