How to Teach Portuguese to Your Boyfriend/Girlfriend
Thursday January 13th, 2022

Posted by:

Amanda Ennes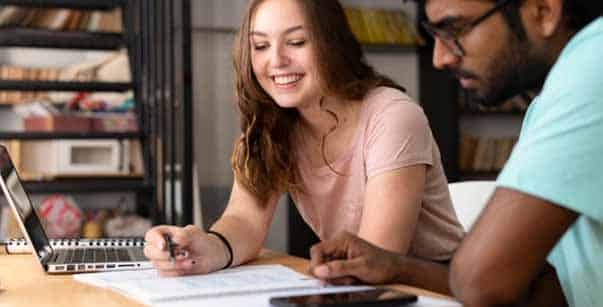 If you have a foreign significant other, you are probably thinking about ways to teach them Portuguese. Even if you speak a common language, you may want them to be able to communicate with your family and friends. Also, would be nice to have a conversation with them in your mother tongue once in a while, right? So, if you want to teach Portuguese to your boyfriend/girlfriend, but do not know where to start, here are a few tips that might help you in your quest.
Start with the basic
If you are thinking about starting to teach Portuguese to your foreign boyfriend/girlfriend, start with the basics. Teach them the sounds of letters in Portuguese and the pronunciation of basic words. Then, move forward to vocabularies like greetings, colors and numbers, food, household objects, and more.
You may find inspiration by checking our hashtag #CaminhosTips on Instagram.
Start slow and progress to more complex vocabulary as they start to get the hang of it. Then, you can move forward to topics like medical and travel vocabulary, prepositions, pronouns, verbs, etc.
Common interests
Find something you both love and try to apply Portuguese to that. For example, if you both like sports, this is a great opportunity to slide some Portuguese vocabulary into your conversations.
Check this blog post for soccer/football vocabulary in Portuguese.
Maybe you like gardening, gaming, traveling… There is a world of opportunities to start talking Portuguese with your boyfriend/girlfriend during everyday situations.
Movie nights
Watch Brazilian movies together. This is not only great to build vocabulary and improve listening skills, but also to get to know the Brazilian culture a bit more.
Start watching Brazilian movies setting the subtitle options to their mother language. After a couple of movies, try switching it to Portuguese subtitles and see if they are progressing in their listening and comprehension skills.
Watch Teacher Marcela's video about Brazilian movies you should watch.

Teach them about the Brazilian culture
Learning about the Brazilian culture is as important as learning Portuguese. Teach your boyfriend/girlfriend about Brazilian food, the costumes and traditions, the parties and celebrations. Tell them about how we celebrate Christmas and Festa Junina in Brazil. Talk about Carnival, samba schools, and the history of samba. Teach them about our folklore, wildlife, and religion.
It would be also helpful to teach them about the regions of Brazil, and how diverse our culture is if you compare the South and the Northeast, for example.
We have a lot of blog posts here on Caminhos' blog that might help you when looking for a topic of conversation on Brazilian culture.
Listen to Brazilian songs with them
Listening to songs while following the lyrics is a great way to learn a new language. Start adding Brazilian songs to your playlists and start to listen to them more often when you are together. Explain what the lyrics mean and some interesting vocabulary found in the songs.
In this blog post, you will find different songs to help you in your task of teaching Portuguese to your boyfriend/girlfriend. We have created this list thinking about songs that use different verbs tenses and vocabulary.
Speak Portuguese to them at home
Once your significant other starts to understand basic Portuguese and can carry a conversation, start to speak Portuguese to them at home more often. Maybe choose a time of the day when only talking in Portuguese is allowed and encourage them to speak Portuguese as much as possible.
Help them with their language course
You may want to teach them Portuguese yourself, but getting professional help is also important. A qualified teacher will help your boyfriend/girlfriend in areas you lack knowledge of. Maybe explaining how to use the subjunctive mood in Portuguese, for example, is a bit tricky. But Portuguese teachers are trained for that and have a great experience dealing with foreigners learning Portuguese.
Sign your boyfriend/girlfriend for a few Portuguese classes to help them improve the skills they are already getting by learning Portuguese with you.
Enrolling in group classes will also give them the chance to learn with the questions other foreigners might have. They will also be involved in interactive sessions with other classmates and the teacher, practicing reading, writing, speaking, and listening skills in Portuguese.
You can also help them advance in classes by giving them an extra hand with homework and projects.
Encourage and praise them
Encourage your boyfriend/girlfriend to speak Portuguese while out and about in Brazil. Let them do the groceries, order food in a restaurant, or ask for information. Also, praise them for trying and let them know how much they are improving.
Do not let them feel embarrassed when making mistakes. Show them this is part of the learning journey and that they are going to be fluent in no time.
Believe in yourself
You are totally able to teach Portuguese to your boyfriend/girlfriend. That is the language you have been talking for all of your life. Just go ahead and teach them what you know. It does not matter if you have never done that before. You can do it!
Caminhos Language Centre is the largest Portuguese school for foreigners in Rio de Janeiro.